The project
Velux is a company that builds roof windows. They define themselves as "daylight providers". Their ambition was to help home-owners visualise the benefits of daylight in their homes on a digital platform. They asked us to go beyond static images, and render 3D rooms that customers could fully experience. We were building a mobile app that would produce VR experiences.
My part
- Concept definition (identity, tone of voice),
- Detailed interaction design and documentation,
- Usability testing,
- Development followup.
The right balance
3D visualisation has historically been done using high-powered desktop softwares. Building 3D images with a mobile-based application raised many challenges:
- Deal with various digital and architectural expertises, to offer a powerful yet simple interface
- Balance simplicity and personalisation, to make the customer feel that he is visualising his room, and not any pre-made model
- Solve the fact that rendering a high-quality lighting scene is beyond the processing power of mobile devices
This project is ongoing balance exercise, from the first concepts to advanced functions. We have to evaluate every decision through simplicity, accuracy and personalisation.
"UX NERD"
In the detailed design phase, I play with new and fascinating space problems. Perspective deforms the perception of the roof slope and of the available space, making the personalisation of windows really difficult. Tactile limitations force us to offer large handles for all our objects, but zooming in and out can become very confusing. To solve those questions, we build display rules depending on the different roof dimensions and configurations.
We regularly iterate with potential users to make sure that the experience remains playful and easy.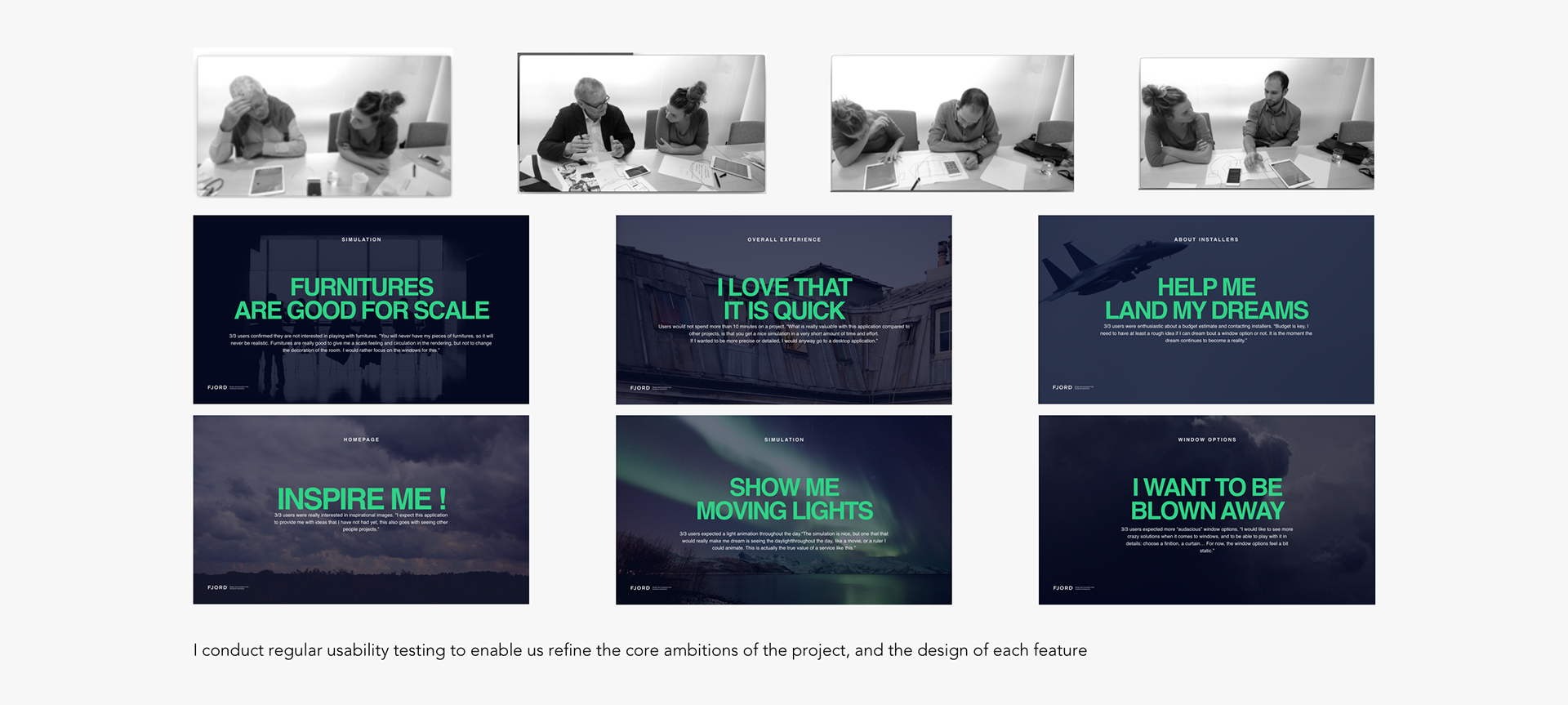 The best accuracy
Light looks different at different locations around the world, across seasons and orientations. We worked closely with VELUX daylight architects to create the best possible rendition of daylight in our simulations. We used the phone's GPS coordinates and gyroscope to position the simulation as the user's actual home.
We even offer furniture libraries, and develop a module that enables their automatic placement in the model. As well, wall and floor surfaces can be personalised.
Key takeaways
With a team spread between Stockholm, Copenhagen, London, Austin, Paris and Riga, this project was a challenge at every level: organisation, ambition, planning and expected outcomes. At a personal level, it was the occasion to wear many hats, from UX researcher, to storyteller or UX lead. It was demanding, but definitely worth it! Please check the Fjord case study 
here
.